MYAH
MYAH offers all the technologies required to support myopia management: optical biometry, corneal topography and pupillometry — it is a one-time investment.
In addition, MYAH is an all-in-one device that offers an evolving platform that provides the tools to add or grow Dry Eye Management.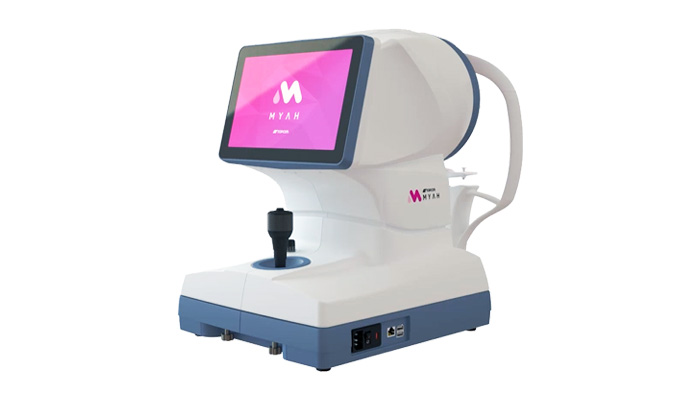 Build, Manage and Grow Your Myopia & Dry Eye Practice
Building a myopia management practice requires you to educate your patients and their families about the implications of myopia progression, to manage the condition, and to grow your service offering.
BUILD YOUR MYOPIA MANAGEMENT SERVICE
MYAH provides the initial baseline to monitor risk, allowing you to start the conversation early with parents.
MANAGE: MONITOR AND COMPARE
MYAH provides essential information to monitor eye elongation and compare axial length measurements with built-in growth curves.
GROW YOUR MYOPIA MANAGEMENT SERVICE
Offering axial length screening tests may complement your refraction tests.
Key features
Corneal Topography including keratoconus screening and pupillometry
Axial Length Measurement
Progression reports for analyzing treatment efficacy
Dry Eye Assessment Tools
Monitor the progression of myopia and compare measurements with the growth curves for axial length
MYAH makes your practice dynamic and smart
This versatile instrument, with its intuitive and user-friendly interface, integrates easily into your workflow and offers different options for exporting the results.
Additional features
Dynamic pupillometry
Contact lens fitting
Corneal aberration summary
Final users
MYAH is the perfect instrument for eyecare professionals interested in building, managing, and growing a myopia service.
The device must be used by qualified personnel.
---
© 2023 VISIA Imaging Srl Unipersonale - All Rights Reserved