CA-800
CA-800 is a corneal analyzer with integrated pupillograph.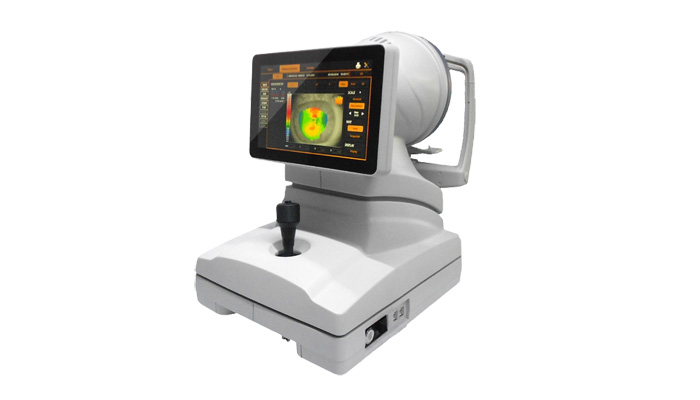 CA-800 is a video disk-based keratoscope by Placido and allows to map the human cornea. The system projects a series of concentric circular sights on the eye, through an image acquisition system preserves and processes the image, managing to measure the shape and topography of the corneal epithelium.
The corneal map can be represented in different ways as used in clinical practice: 2D map with color scale, 3D map, tangential or axial curvature representation, in millimeters or optical diopter, altimetric map.
From the topographical data of the corneal map, a series of indices are used to identify the type and the state of the cornea.
The dynamic evaluation of the morphology of the Placid aims reflected by the cornea allows an effective measurement to be performed to verify the stability of the tear film.
Non-visible light illumination allows the recording of images of the pupil without altering the state of the contraction.
A blue led lighting system and filtering of the excitation components allow the acquisition of films and images of fuoresceinic application on the eye.
A high definition camera and a large acquisition field, combined with an infrared lighting system, allow the acquisition and evaluation of the Meibomian glands placed under the eyelids.
The main applications of the corneal analyzer are the following:
Horny measurements for diagnostic tools
Measurement of the cornea and the pupil for the application of contact lenses
Fluorescence analysis for contact lens placement
Measurement of the pupil for the identification of specific pathologies
Dynamic analysis of tear film and blink time
Analysis of the state of the Meibomian glands
Final users
Oculist, ophthalmologists, opticians, optometrists and contactologists.
For other applications the device must be used by qualified personnel.
Interaction with the patient
The patient does not act on the controls, he is placed with his chin on the chin and forehead on the forehead and he is asked to remain still and to watch with an eye the fixation LED.
The patient may be an elderly person, a disabled person or a child, but the apparatus is controlled by specialized personnel mentioned above.
Usage environment
The environments of use are: clinics, medical offices, hospitals, optical stores.
Reference literature
Spotlight on technology & technique
A choice instrument for dry eye clinics
The versatility of Topcon's CA-800 makes it ideal for expanding practices
Associate Editor
August 2016
---
© 2023 VISIA Imaging Srl Unipersonale - All Rights Reserved